Susanne Leone honored as Emerging Lawyer of the Year 2018 (corporate and tax)
Susanne Leone was honored by the Indian National Bar Association's (INBA) on their 7th Annual International Conference titled at the Shangri La's Eros Hotel, New Delhi, as "Emerging Lawyer of the Year 2018 (corporate and tax)."
The conference was a great success and exposure for Leone Zhgun into India and the Asian market. The conference itself was mentioned in India's second most widely read national English newspaper, the Hindustan Times.  The morning after the conference, a photo appeared in the Hindustan Times with Susanne Leone honoring the legal team of HT Media Limited with an INBA Award for "Legal Team of the Year 2018."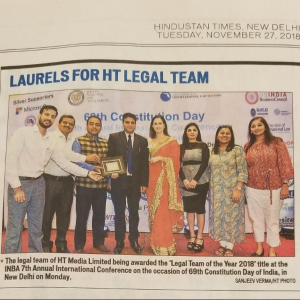 A significant achievement during the conference was the signing of a Bar Cooperation   Agreement between the   Florida   Bar International Law Section by Susanne Leone on behalf of the Florida Bar International Law Section and the Indian National Bar Association as a symbol of collaboration and a mutual desire to strengthen the relationship between Florida and India. The Agreement was signed in English and Hindi.
Read up on Susanne Leone's presentation at the 2018 Annual International Conference in India on "Immigration Law Update – Gateways into North America".
More information on the New European framework regulation on foreign direct investment entered into force on 10 April 2019 can be found here.